About us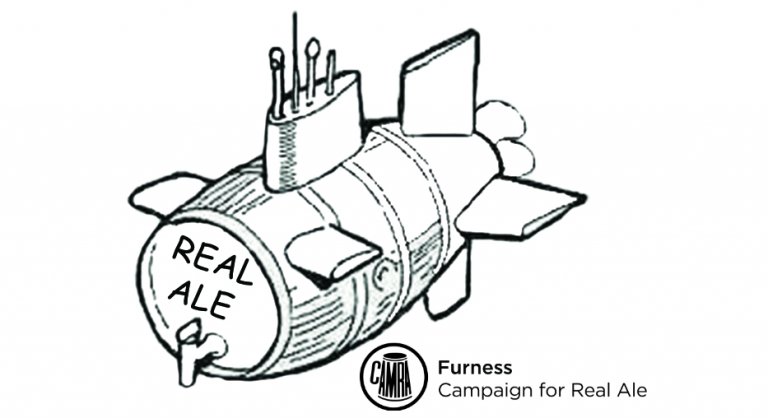 If you are wondering what our Branch logo is all about, the Firkin (beer cask) shape is pretty obvious but in the shape of a submarine? Well, in case you didn't know already, Barrow-in-Furness is located our Branch area and is the home of submarine construction in this country.
Have a look at our Furness CAMRA Facebook Public Page as well as this website and you can now follow us @FurnessCAMRA on Twitter as well.
CAMRA is a national organisation which was founded in 1971 and has successfully campaigned for beer-drinkers rights since that date. For more information on CAMRA's objectives, publications membership levels and range of benefits please follow the link to CAMRA's own web site.
Furness CAMRA is your local branch, representing CAMRA's presence in Furness.
The Furness area has fifteen real ale Breweries , all of which are classed as micro breweries and range from those in daily production to those producing on an intermittent basis. If you look at the Breweries item on the menu, you will see a list of these currently in production.
The area has over 120 real ale outlets, many of which are in stunning Lake District locations and the wonderful market town of Ulverston. More information on our real ale outlets is available on the WhatPub database.
The Good Beer Guide, produced annually by CAMRA, contains details of a limited number of our real ale outlets selected by the branch members. However, there are many more outlets that we feel are well worth a visit and those are listed here. If you are visiting the area and enjoy walking the book "Lake District Pub Walks", produced by CAMRA, is thoroughly recommended.
The branch holds monthly branch meetings at which relevant matters are discussed in a social atmosphere. We pride ourselves on the welcome afforded to visiting members and all who choose to attend. We also organise pub and brewery visits and other social events on a regular basis. Click Branch Diary and Events item on the menu for details of all our meetings and events.
The Ulverston Beer & Cider Festival, organised by the branch, takes place in early September each year. We have a separate page on the menu dedicated to the Festival.
A quarterly magazine, the InnQuirer, is produced by the branch. It is available in our local pubs or you can download the latest version from the InnQuirer - Branch Magazine page. Articles for the magazine are always welcome and advertising rates are very reasonable. For further details please contact the magazine editor - details on the Contacts page.